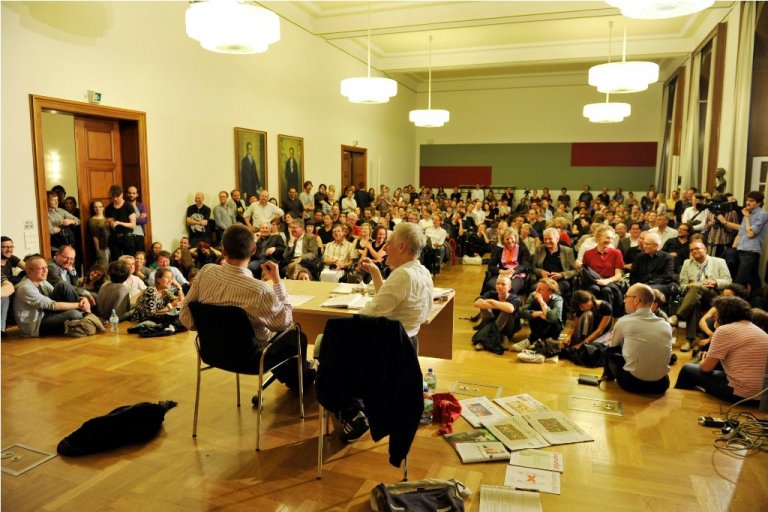 **#History #Cultural History #Politics #Economy #Art #Literature
The Mosse-Lectures are an interdisciplinary and international research and event project, founded in 1997 by the historian George L. Mosse and the literary scholar Klaus R. Scherpe. With their slogan "culture and science as a public commitment", the Mosse-Lectures commemorate the history and legacy of the German-Jewish Mosse family, especially the tradition of the publishing house founded by Rudolf Mosse, which had a great influence on the democratic public of the Weimar Republic with its flagship liberal newspaper "Berliner Tageblatt". Descendants of the Mosse family held on to this tradition in exile, and still to the present day through their political and philanthropic commitment. This is particularly evident in the work of historian of fascism George L. Mosse, who died in 1999. Mosse opened the series of events with his lecture "The Liberal Heritage and the National-Socialist Public" on May 14, 1997. Since then, more than 200 lectures have been held.
Each semester a focus topic is chosen: including among others "Music and Politics", "non finito, unfinished, unfinished", "Future Knowledge", "Class Issues" and currently "Anger". Thus, the Mosse-Lectures are dedicated to imparting knowledge and science in the fields of history, cultural history, politics, economics, art and literature. Prominent scientists, authors, artists and politicians from Germany and abroad are invited. Special attention is paid to the past and present of Jewish life, thought and action in Germany and Israel.
One of the tasks of the Mosse Lectures is to introduce the invited speakers and their fields of work to students of all faculties as well as to an interested public. The events with discussions in English and German usually take place on a Thursday evening in the Senate Hall or the Auditorium Maximum of Humboldt University, Unter den Linden. Student internships and colloquia then follow. The Mosse Lectures are often broadcast on radio and television (RBB, Deutschlandradio, SWR) and published in print.
The Mosse Lectures are organised and supported by the Institute of German Literature and the president of the Humboldt University. A board of researchers and organizers is responsible for the programme, including: Prof. Joseph Vogl, Prof. Ethel Matala de Mazza, Prof. Michael Kämper-van den Boogaart, Prof. Ulrike Vedder, Prof. Stefan Willer, Prof. Lothar Müller, Dr. Hendrik Blumentrath and Denise Reimann.
From the outset Mosse Lectures have been supported by various commercial enterprises and foundations, including the Mosse Foundation, the Fritz Thyssen Foundation, the Gerda Henkel Foundation and the Friedrich Foundation.
Or inform yourself about the upcoming dates!
Contact
Dr. Denise Reimann
MOSSE-LECTURES
Humboldt-Universität zu Berlin
Dorotheenstr. 24
10117 Berlin
info@mosse-lectures.de
Niels Leiser

Niels Leiser

Niels Leiser

Niels Leiser

Niels Leiser

Niels Leiser
Share
Folgender Link wurde Ihrer Zwischenablage hinzugefügt. Sie können diesen jetzt nutzen, um ihn in Ihren Netzwerken zu teilen.
Info
Humboldt-Universität zu Berlin Unter den Linden 6 10117 Berlin
Unter den Linden 6
10117 Berlin