The »Well-Tempered Hygrometer« by artist and architect Anna Kubelík is an installative and constructive sculpture from 2013. The title reveals the hybrid character of the work: on the one hand, the artist has conceived it as a geometric interpretation of Johann Sebastian Bach's Well-Tempered Clavier by making very direct and precise references to this work which is fundamental for keyboard instruments. On the other hand, the construction is a measuring instrument with which changing atmospheric conditions in the surrounding space room are indicated. The work's conceptual basis it therefore both technically and artistically based on measuring, tempering or tuning – as is done in music – and the capturing and display of invisible environmental conditions in space – which is otherwise performed by technical apparatus.
The sculpture consists of more than four thousand individual parts, which were each cut, filed, drilled, punched, and painted several times by hand from ash and pinewood, as well as horsehair, lead weights, and aluminum connections.
In the now third and latest version of the work, Anna Kubelík developed together with the drummer and sound artist Oliver Schmid a sonic performance in which Schmid brings both the components of the installation and the spaces themselves to sound and resonate through his playing. More detailed information about sculpture and performance in English and German can be found here.
The sound performance accompanies the exhibition Stretching Materialities by designers and researchers of the Cluster of Excellence Matters of Activity at Humboldt-Unversität zu Berlin, which can be visited in the adjacent building of the Tieranatomisches Theater monday to friday 2–6 p.m. The performance will be framed by an introduction and a talk moderated by Christiane Bail and Matthias Seidel from drj art projects, a curated art space for contemporary conceptual and minimal art in Berlin.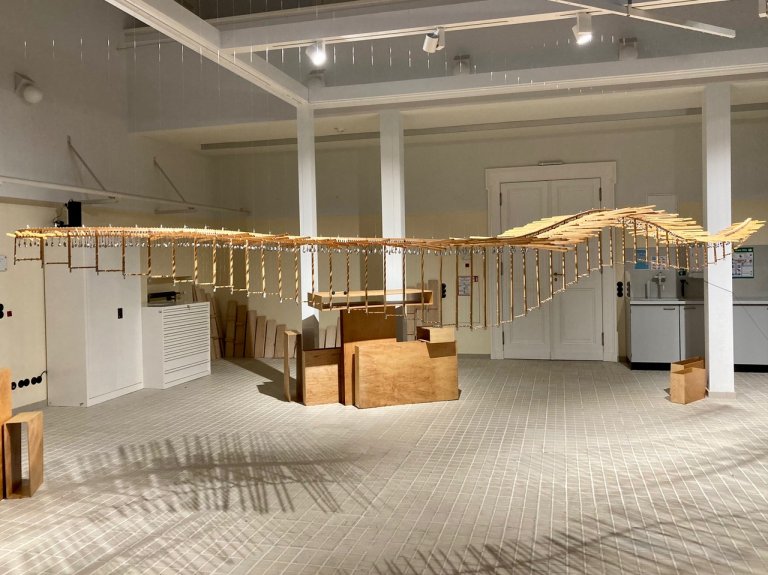 Share
Folgender Link wurde Ihrer Zwischenablage hinzugefügt. Sie können diesen jetzt nutzen, um ihn in Ihren Netzwerken zu teilen.
Info
Hermann von Helmholtz Centre for Cultural Technology
Object Lab
Philippstraße 13
10115 Berlin