Britons in Berlin: An Exploration through the Senses
A digital exhibition created by the students of the MA British Studies called "Britons in Berlin: An Exploration through the Senses" presents the research into the British experience in Berlin. This time, the project focuses on the ways in which British travellers have interacted with the city through their senses, and the creative output that this has inspired. The exhibition will be organised around the five senses. Five stations - Sight, Sight and Hearing, Hearing, Touch, and Smell and Taste are set up to trace British artists' experience in Berlin through different sensations. These stations introduce the audience to British visual artists, musicians, filmmakers, cabaret performers, writers, as well as to the art they have created in response to their experience in Berlin. Join the website launch at https://british-berlin.com on Friday 11th June.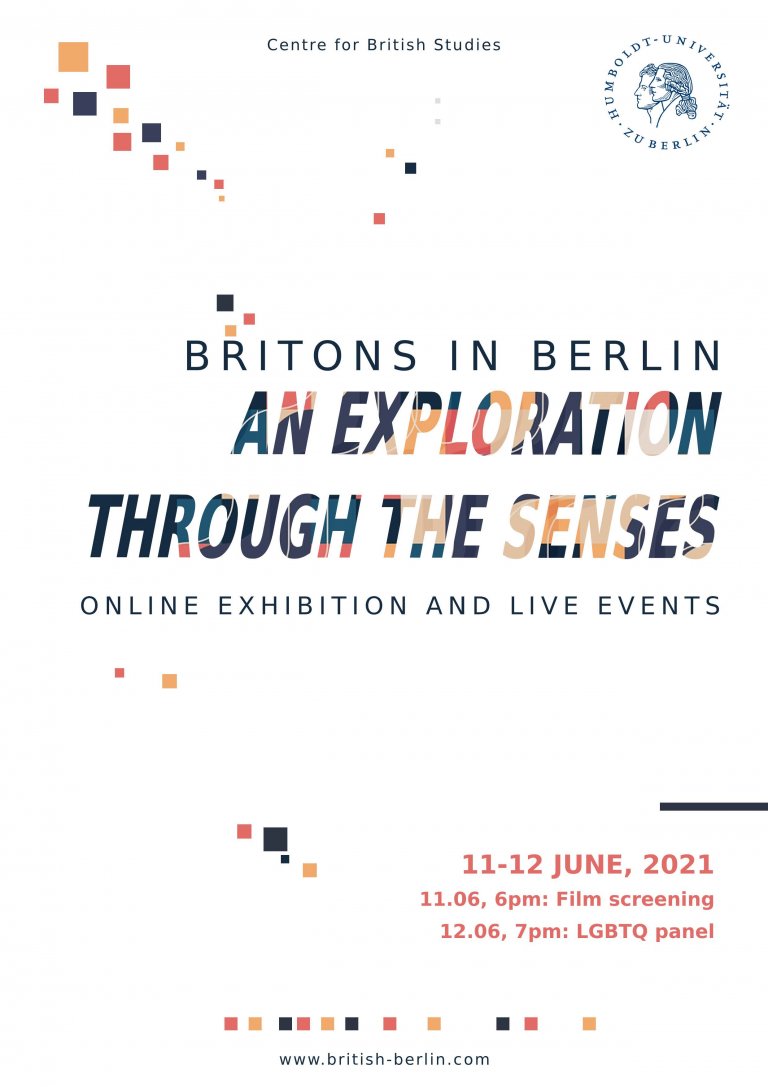 On Friday 11th June, at 6 pm, our website launch will be marked by an online film event with Barbara Loftus, an eminent figurative painter and film maker. Together we will stream and then discuss her film Across the Land and the Water (2018), in which she explores the lives of family members that she has seen only in photographs and narrates the story of their separation in Nazi Germany. Dr Barbara Wünnenberg, who has done extensive research on Ms. Loftus' works, will moderate the discussion that will follow the film projection. You are welcome to register for the event at https://forms.gle/Ci9argjYqmZpM6Vs7.
On Saturday 12th June, at 7 pm, we will have an online panel discussion with Drag artists based in Berlin. Our guests will be Alexa Spread, nosmo_the_king, and Le Pustra. We look forward to having an open conversation about Berlin's reputation for being an especially safe space for the LGBTQ+/Drag community, and whether or not that is still justified. Our speakers will share their experience of performing and living in Berlin. The discussion will take place via zoom, and will be streamed on social media as well. To receive the zoom invitation, please register here https://forms.gle/kxNJVtoGHCcuEThQ9.

Centre for British Studies | Großbritannien-Zentrum

Mohrenstraße 60
10117 Berlin
Share
Folgender Link wurde Ihrer Zwischenablage hinzugefügt. Sie können diesen jetzt nutzen, um ihn in Ihren Netzwerken zu teilen.
Info
Großbritannien-Zentrum (GBZ)